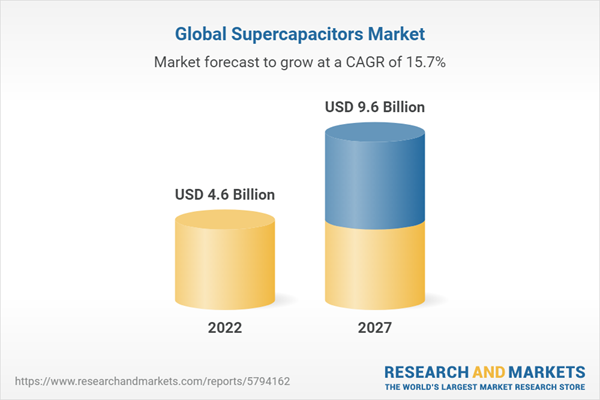 Dublin, May 23, 2023 (GLOBE NEWSWIRE) — The "Supercapacitors: Technology Developments and Global Markets" report has been added to ResearchAndMarkets.com's offering.
In this report, the market has been segmented based on type, electrode material, end-user, and geography. The report provides an overview of the global supercapacitor market and analyses market trends. Using 2021 as the base year, the report provides estimated market data for 2022-2027.
Revenue forecasts for this period are segmented based on type, electrode material, end-user, and geography. Market values have been estimated based on the triangulation method using the parameters such as total revenue of supercapacitor providers, primary interview results, and secondary white paper information.
This report examines the way in which the supercapacitor market is changing and how it has evolved. This analysis includes a detailed survey of new organizations in the market as well as existing organizations. At the industry level, the publisher identifies, examines, describes, and provides global and regional market sizes for 2021 and forecasts demand from 2022 through 2027.
Supercapacitors are used to hold incredibly enormous amounts of electrical charge. They go by the name ultracapacitors as well. Supercapacitors store electrical energy using three different techniques in place of a traditional dielectric: double layer capacitance, pseudocapacitance, and hybrid capacitance. In other words, supercapacitors combine the functions of conventional capacitors with those of standard batteries.
Double layer capacitance is electrostatic in origin, pseudocapacitance is electrochemical, and hybrid capacitance combines both. Similar to electrolyte capacitors, supercapacitors are polar devices that must be connected to the circuit in the proper manner. For some applications, such as consumer electronics, where supercapacitors may replace batteries, the electrical characteristics of these devices, particularly their quick charge and discharge times, are exceedingly intriguing.
The growth in supercapacitor technologies will be driven majorly by increasing demand for electric vehicles, rising use of supercapacitors in renewable energy generation plants, and consideration of supercapacitors as a viable substitute for conventional batteries. Growth will lead to consolidation, especially among medium-to-large-size companies.
One development is the developing momentum in healthcare, especially for portable medical devices. These medical devices are being increasingly used due to their portability, ease of access, and their performance in shortening turnaround times.
Supercapacitors can be employed in a wide range of applications since they fill the gap between batteries and capacitors. The storage of energy in KERS (Kinetic Energy Recovery System), or dynamic braking systems, in the car industry is one intriguing use.
Another example is low-power applications, where having a high capacity is not essential, but having a long-life cycle or quick recharge is. Such applications include photography flash, MP3 players, static memory (SRAM), which require a low power constant voltage source to store information, and others.
Report Includes
An overview of the global market for supercapacitor technologies and developments, including description of their types and fabrication technologies
Estimation of the market size and analyses of global market trends, with data from 2021 to 2022, estimates for 2023 and 2025 with projections of compound annual growth rates (CAGRs) through 2027
Highlights of the current and future market potential and quantification of supercapacitor technologies market based on product type, application, end-user industry and region
Identification of market drivers, restraints and other forces impacting the global market and evaluation of current market size and forecast
Detailed analysis of the regulatory framework and policies and technological changes within the industry
Market share analysis of the key companies of the industry and coverage of their proprietary technologies, strategic alliances, and other key market strategies and a relevant patent analysis
Comprehensive company profiles of the leading players of the industry, including CAP-XX Ltd, Eaton Corp. PLC, KYOCERA Corp., Panasonic Holdings Corp. and YAGEO Corp.
Key Attributes:
| | |
| --- | --- |
| Report Attribute | Details |
| No. of Pages | 194 |
| Forecast Period | 2022 – 2027 |
| Estimated Market Value (USD) in 2022 | $4.6 Billion |
| Forecasted Market Value (USD) by 2027 | $9.6 Billion |
| Compound Annual Growth Rate | 15.7% |
| Regions Covered | Global |
Key Topics Covered:
Chapter 1 Introduction
Chapter 2 Summary and Highlights
Chapter 3 Market Overview
Capacitors
Batteries
Supercapacitors
Structure of Supercapacitors
Comparison of Energy Storage Capability
Value Chain Analysis
Porter's Five Forces Analysis
Bargaining Power of Buyers
Bargaining Power of Suppliers
Threat of New Entrants
Threat of Substitutes
Degree of Competition
Impact of Covid-19 on the Supercapacitor Market
Overview
Impact on the Supercapacitor Market
Chapter 4 Market Dynamics
Introduction
Market Drivers
Market Restraints
Market Opportunities
Chapter 5 Market Breakdown by Type
Overview
Double Layer Capacitors
Pseudocapacitors
Hybrid Capacitors
Chapter 6 Market Breakdown by Electrode Material
Overview
Carbon
Metal Oxide Supercapacitors
Conducting Polymers Supercapacitors
Composite Supercapacitors
Chapter 7 Market Breakdown by End-user
Overview
Microgrid
Automotive
Consumer Electronics
Industrial
Aerospace
Medical
Chapter 8 Market Breakdown by Region
Overview
North America
U.S.
Canada
Mexico
Europe
U.K.
Germany
France
Rest of Europe
Asia-Pacific
China
Japan
India
Rest of Asia-Pacific
South America
Rest of the World
Chapter 9 Patent Analysis
Patent Analysis
Recent Key Granted Patents
Chapter 10 Competitive Landscape
Top Companies
Strategic Analysis
Product Launches and Developments
Acquisitions and Mergers
Expansions and Investments
Collaborations and Partnerships
Key Market Developments
Chapter 11 Company Profiles
Companies Mentioned
Cap-Xx Ltd
Cornell Dubilier Electronics Inc.
Eaton Corp. plc
Elna America Inc.
Ioxus
Korchip Corp.
Kyocera Corp.
Ls Corp.
Nanoramic Laboratories
Nichicon Corp.
Nippon Chemi-Con Corp.
Panasonic Holdings Corp.
Quantic Electronics
Samwha Electric Co. Ltd
Seiko Group Corp.
Skeleton Technologies
Spel Technologies Pvt Ltd
Tecate Group
Ucap Power Inc.
Yageo Corp.
For more information about this report visit https://www.researchandmarkets.com/r/617vq7
About ResearchAndMarkets.com
ResearchAndMarkets.com is the world's leading source for international market research reports and market data. We provide you with the latest data on international and regional markets, key industries, the top companies, new products and the latest trends.
Attachment
Global Supercapacitors Market

(GlobeNewsWire)