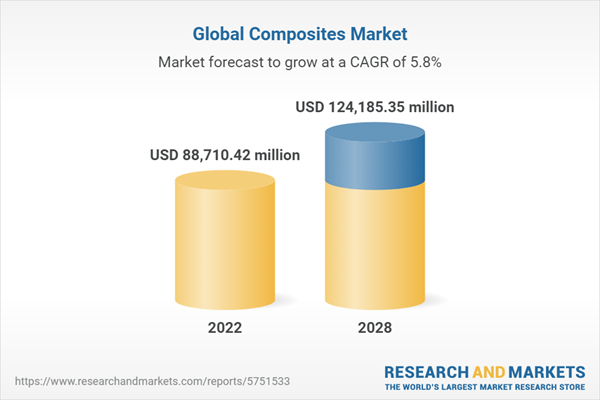 Dublin, May 22, 2023 (GLOBE NEWSWIRE) — The "Composites Market Forecast to 2028 – COVID-19 Impact and Global Analysis By Fiber Type, Resin Type [Thermoset and Thermoplastic], and End-Use Industry" report has been added to ResearchAndMarkets.com's offering.
The composites market size is expected to grow from US$ 88,710.42 million in 2022 to US$ 124,185.35 million by 2028; it is estimated to grow at a CAGR of 5.8% from 2022 to 2028.
Composite materials are the combination of two materials with different physical and chemical properties. The two components of a composite include a reinforcement and a matrix. The matrix binds the reinforcement together to merge the benefits of both original components.
Composites continue to replace traditional materials such as steel and aluminum. Composites are improving the design process and end products across various industries, including aerospace, renewable energy, automotive, and many others. The fiber-reinforced composites such as carbon fiber and fiberglass are opening up new design opportunities for engineers. The global composites market is mainly driven by the increasing demand for lightweight materials from the automotive & aerospace industry.
Moreover, the market growth is fueled by a rise in the utilization of glass-fiber composites in various end-use industries. The higher utilization rate of glass fibers in end-use industries such as wind energy, construction, sporting goods, and marine has broadened the scope of glass fiber composites. Wind energy is one of the fastest-growing sectors across the globe and will expand rapidly in the coming years. Wind energy capacity is increasing with the rise in renewable energy infrastructure. Further, the increasing use of composites in the wind energy sector is expected to offer lucrative opportunities for the composites market growth during the forecast period.
Based on resin type, the global composites market is bifurcated into thermoset and thermoplastic. The thermoset segment registered a larger share of the composites market in 2022. Thermoset resins are utilized in the production of most composites due to the convenience of impregnation of reinforcing fibers such as fiberglass or carbon fiber, as thermoset resins remain in the liquid state at uncured and room temperature.
Thermoset resins are cured using a catalyst, heat, or a combination of the two for manufacturing finished goods. The cured thermoset resins are the irreversible structure of cross-linked molecules, resulting in high thermal stability, rigid structure, and high friction resistance. Polyester, epoxy, vinyl ester, and polyurethane are common thermosets utilized for composite production.
In 2022, Asia Pacific held the largest revenue share of the global composites market. Various advantages of using composites over other alternatives are driving the composites market growth in the region.
Moreover, the rising construction, wind power, electronics, and automotive industries are expected to create favorable business opportunities for the composites market growth during the forecast period. China registered 33% of global premium car production in 2021. The demand for battery electric vehicles is increasing in Asia Pacific. As per the International Organization of Motor Vehicle Manufacturers report, in 2021, the countries in Asia Pacific produced ~46.73 million units of motor vehicles.
According to the report by International Energy Agency, China registered 70% of the world's wind generation growth in 2021. Moreover, the 14th Five-Year Plan published by China in June 2022, accounted for a target of 33% of electricity generation from renewables by 2025, including an 18% target for wind and solar technologies.
Japan has the third-largest automotive industry in the world, and is a hub for more than 10 major automotive manufacturers, including Honda Motor Co Ltd, Suzuki Motor Corporation, Toyota Motor Corporation, and Mitsubishi Motors Corporation. Moreover, many foreign and domestic investors are investing in the residential construction sector of Japan. All these factors drive the demand for composites in Asia Pacific.
Key Attributes:
| | |
| --- | --- |
| Report Attribute | Details |
| No. of Pages | 160 |
| Forecast Period | 2022 – 2028 |
| Estimated Market Value (USD) in 2022 | $88710.42 million |
| Forecasted Market Value (USD) by 2028 | $124185.35 million |
| Compound Annual Growth Rate | 5.8% |
| Regions Covered | Global |
Market Dynamics
Drivers
Increasing Demand for Lightweight Materials from Automotive & Aerospace Industry
Rising Utilization of Glass-fiber Composites in End-use Industries
Restraints
Challenges in Recycling of Thermoset Composites
Opportunities
Applications of Composites in Wind Energy Sector
Future Trends
Development of Composites from Biobased Matrices
Companies Mentioned
DuPont de Nemours Inc
Gurit Holding AG
Hexion Inc
Mitsubishi Chemical Holdings Corp
Nippon Electric Glass Co Ltd
Owens Corning
SGL Carbon SE
Teijin Ltd
Solvay SA
Toray Industries Inc
For more information about this report visit https://www.researchandmarkets.com/r/j5rm7s
About ResearchAndMarkets.com
ResearchAndMarkets.com is the world's leading source for international market research reports and market data. We provide you with the latest data on international and regional markets, key industries, the top companies, new products and the latest trends.
Attachment

(GlobeNewsWire)