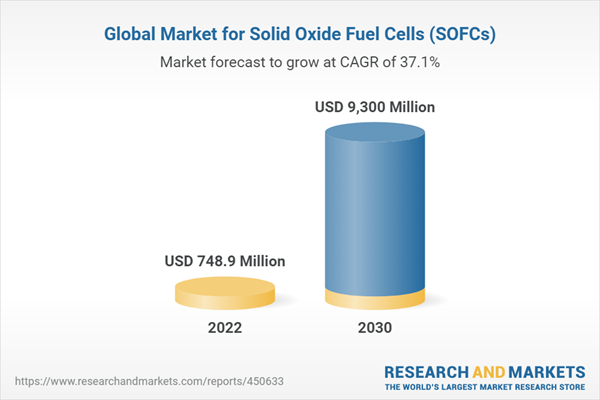 Dublin, April 10, 2023 (GLOBE NEWSWIRE) — The "Solid Oxide Fuel Cells (SOFCs): Global Strategic Business Report" report has been added to ResearchAndMarkets.com's offering.
The global market for Solid Oxide Fuel Cells (SOFCs) estimated at US$748.9 Million in the year 2022, is projected to reach a revised size of US$9.3 Billion by 2030, growing at a CAGR of 37.1% over the analysis period 2022-2030.
Stationary, one of the segments analyzed in the report, is projected to record a 35.5% CAGR and reach US$7 Billion by the end of the analysis period.
Taking into account the ongoing post pandemic recovery, growth in the Transportation segment is readjusted to a revised 40.4% CAGR for the next 8-year period.
The U.S. Market is Estimated at $219.1 Million, While China is Forecast to Grow at 34.8% CAGR
The Solid Oxide Fuel Cells (SOFCs) market in the U.S. is estimated at US$219.1 Million in the year 2022. China, the world's second largest economy, is forecast to reach a projected market size of US$1.5 Billion by the year 2030 trailing a CAGR of 34.8% over the analysis period 2022 to 2030.
Among the other noteworthy geographic markets are Japan and Canada, each forecast to grow at 33.1% and 31.8% respectively over the 2022-2030 period. Within Europe, Germany is forecast to grow at approximately 24.5% CAGR.
Select Competitors (Total 33 Featured) –
Adelan Ltd.
Atrex Energy Inc.
Bloom Energy Corporation
Ceramic Fuel Cells Limited
Ceres Power Limited
Convion Ltd.
Elcogen AS
FuelCell Energy, Inc.
Hexis AG
SOLIDpower S.p.A.
Sunfire GmbH
Ultra Electronics Holdings Plc
What`s New for 2023?
Special coverage on Russia-Ukraine war; global inflation; easing of zero-Covid policy in China and its `bumpy` reopening; supply chain disruptions, global trade tensions; and risk of recession.
Global competitiveness and key competitor percentage market shares
Market presence across multiple geographies – Strong/Active/Niche/Trivial
Online interactive peer-to-peer collaborative bespoke updates
Access to digital archives and Research Platform
Complimentary updates for one year
Key Attributes:
| | |
| --- | --- |
| Report Attribute | Details |
| No. of Pages | 269 |
| Forecast Period | 2022 – 2030 |
| Estimated Market Value (USD) in 2022 | $748.9 Million |
| Forecasted Market Value (USD) by 2030 | $9300 Million |
| Compound Annual Growth Rate | 37.0% |
| Regions Covered | Global |
Key Topics Covered:
I. METHODOLOGY
II. EXECUTIVE SUMMARY
1. MARKET OVERVIEW
Influencer Market Insights
World Market Trajectories
Fuel Cells – A Rudimentary Overview
Recent Market Activity
Solid Oxide Fuel Cells – A Curtain Raiser
Current and Future Analysis
Collaborative Effort – Key to Successful Commercialization
Present Levels of Commercialization
Solid Oxide Fuel Cells (SOFCs) – Global Key Competitors Percentage Market Share in 2022 (E)
Impact of Covid-19 and a Looming Global Recession
Competitive Market Presence – Strong/Active/Niche/Trivial for Players Worldwide in 2022 (E)
2. FOCUS ON SELECT PLAYERS
3. MARKET TRENDS & DRIVERS
SOFCs Takes on Competition from Market Leader PEMFC Head-On
Growing Focus on Environmental Protection to Drive Adoption of SOFCs in Power & Transportation Sector
Growing Demand for Electricity Driving Demand for SOFCs in Power Sector
SOFCs Gather Momentum in Stationary Cogeneration/CHP Deployments
SOFCs: Ideal for Distributed Power Generation
Growing Focus on Renewable Energy to Add to Market Demand for SOFCs
Positive Outlook for Fuel Cell Integrated Residential CHPs
Efforts in Full Swing to Make SOFC a Mainstream Technology for APU in Automobiles
Factors Indicating Potential Opportunity for SOFCs in Heavy-Duty Trucks and Refrigerated Transport Vehicles
Opportunities in Military & Defense Sector
SOFCs Make Perfect Sense for Mobile Networks
The Role of the Government in Driving the Market's Future
Favorable Government Policies Remain Critical to Success
Investments Pour In, Promising to Expand the Industry's Scope
Planar SOFC Remains the Dominant SOFC Technology in the Market
SOFCs: A Technology of Interest to Developed Countries
Japan – A Unique Case of Environment Driven and Energy Driven Market
Developing Nations Set to Follow Developed Markets in Adoption of SOFCs
China on the Verge of a Fuel Cell Boom
Technological Developments Widen Scope of Applications for SOFCs
Technological Innovations Promise to Revolutionize SOFC Manufacturing
Nano Coatings Emerge as Means to Enhance Durability of SOFC
SOFC Demand Not Disruptive to Supplies of Rare Earth Elements
Conventional Power Companies Vie for the SOFC Pie
4. GLOBAL MARKET PERSPECTIVE
III. MARKET ANALYSIS
IV. COMPETITION
For more information about this report visit https://www.researchandmarkets.com/r/ur9fc5
About ResearchAndMarkets.com
ResearchAndMarkets.com is the world's leading source for international market research reports and market data. We provide you with the latest data on international and regional markets, key industries, the top companies, new products and the latest trends.
Attachment
Global Market for Solid Oxide Fuel Cells (SOFCs)

(GlobeNewsWire)