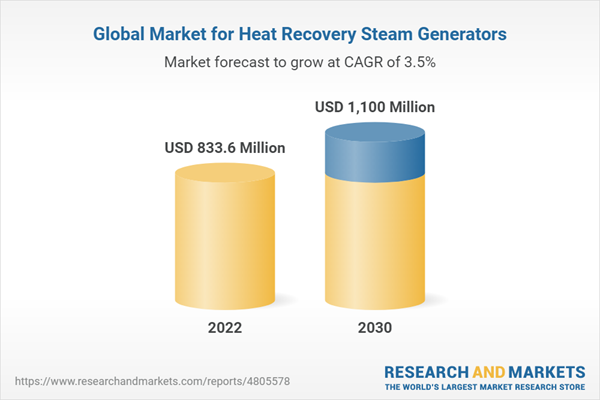 Dublin, May 17, 2023 (GLOBE NEWSWIRE) — The "Heat Recovery Steam Generators: Global Strategic Business Report" report has been added to ResearchAndMarkets.com's offering.
The global market for Heat Recovery Steam Generators estimated at US$833.6 Million in the year 2022, is projected to reach a revised size of US$1.1 Billion by 2030, growing at a CAGR of 3.5% over the analysis period 2022-2030.
Up to 30 MW, one of the segments analyzed in the report, is projected to record 4% CAGR and reach US$559 Million by the end of the analysis period.
Taking into account the ongoing post pandemic recovery, growth in the Above 30 Mw segment is readjusted to a revised 3% CAGR for the next 8-year period.
The U.S. Market is Estimated at $185.1 Million, While China is Forecast to Grow at 6.1% CAGR
The Heat Recovery Steam Generators market in the U.S. is estimated at US$185.1 Million in the year 2022. China, the world's second largest economy, is forecast to reach a projected market size of US$238.8 Million by the year 2030 trailing a CAGR of 6.1% over the analysis period 2022 to 2030.
Among the other noteworthy geographic markets are Japan and Canada, each forecast to grow at 1.7% and 1.9% respectively over the 2022-2030 period. Within Europe, Germany is forecast to grow at approximately 2.8% CAGR.
Select Competitors (Total 34 Featured) –
Babcock & Wilcox Enterprises, Inc.
Clayton Industries
Cleaver-Brooks, Inc.
General Electric Company
Greens Power Limited
John Wood Group plc
Larsen & toubro limited
Mitsubishi Hitachi Power Systems, Ltd.
John Cockerill Group
Nooter/Eriksen, Inc.
RENTECH Boiler Systems, Inc.
Siemens AG
Thermax Limited
Kawasaki Heavy Industries, Ltd.
Key Attributes:
| | |
| --- | --- |
| Report Attribute | Details |
| No. of Pages | 491 |
| Forecast Period | 2022 – 2030 |
| Estimated Market Value (USD) in 2022 | $833.6 Million |
| Forecasted Market Value (USD) by 2030 | $1100 Million |
| Compound Annual Growth Rate | 3.5% |
| Regions Covered | Global |
Key Topics Covered:
I. METHODOLOGY
II. EXECUTIVE SUMMARY
1. MARKET OVERVIEW
Influencer Market Insights
Heat Recovery Steam Generators – Global Key Competitors Percentage Market Share in 2022 (E)
Heat Recovery Steam Generators: A Prelude
Design and Functionality
HRSG Categories
Specialized HRSG Varieties and Functionalities
Global Heat Recovery System Generator (HRSG) Market Set to Witness Rapid Growth
Developed Regions Dominate, While Developing Markets to Witness Faster Growth
Combined Heat and Power (CHP) Application Holds the Major Share, Combined Cycle Application to Witness Rapid Growth
Utilities – The Largest End-use Market for HRSGs
Impact of Covid-19 and a Looming Global Recession
Competitive Market Presence – Strong/Active/Niche/Trivial for Players Worldwide in 2022 (E)
2. FOCUS ON SELECT PLAYERS
3. MARKET TRENDS & DRIVERS
Surging Energy Consumption and Demand for Electricity to Drive the Demand for HRSGs
Projected Global Demand for Electricity (MWh): 2015, 2020, 2025, 2030 & 2035
Global Primary Energy Consumption (Billion toe): Growth Trajectory for the Period 1990-2040
Global Energy Consumption (Billion toe) by Country/Region (1995, 2017 and 2040): Breakdown for USA, China, India, Russia, Brazil, EU, Middle East and Rest of World
Rising Focus on Cogeneration Technology Drives the Demand for Heat Recovery Steam Generators
CHP Share of Total Electricity Generation in Major Countries Worldwide
CHP Installed Capacity (in MWe) in Major Countries Worldwide
Heat Recovery Steam Generators Allow CCGT Plants to Achieve High Efficiency
Emphasis on Curbing Carbon Emissions Accelerates Demand
Price of Carbon Emission in US$ per Metric Ton of CO2-Equivalent by Select Countries: 2019
Percentage Share of Carbon Dioxide Emissions Worldwide by Price: 2019
Growing Focus on Renewable Energy: A Strong Growth Driver
Domestic Targets for Greenhouse Gas Emissions of Select Regions/Countries
Global Investments (US$ Billion) in Renewable Energy by Source: 2018
Focus on Energy Efficiency Drives up the Demand for HRSG
Global Investments in Energy Efficiency (In US$ Billion) for the Years 2016 and 2018 by Region
Global Investments in Energy Efficiency (In US$ Billion) for the Years 2016 and 2018 by Industry
Healthy Outlook for the World Chemical Industry Extends a Fillip to HRSG Market
World Chemical Industry (In US$ Billion) for the Years 2018 & 2020
Innovative HRSG Designs and Upgrades Improve Performance and Efficiency
Recent Developments in the HRSG Space
4. GLOBAL MARKET PERSPECTIVE
III. MARKET ANALYSIS
IV. COMPETITION
For more information about this report visit https://www.researchandmarkets.com/r/wmzawg
About ResearchAndMarkets.com
ResearchAndMarkets.com is the world's leading source for international market research reports and market data. We provide you with the latest data on international and regional markets, key industries, the top companies, new products and the latest trends.
Attachment
Global Market for Heat Recovery Steam Generators

(GlobeNewsWire)