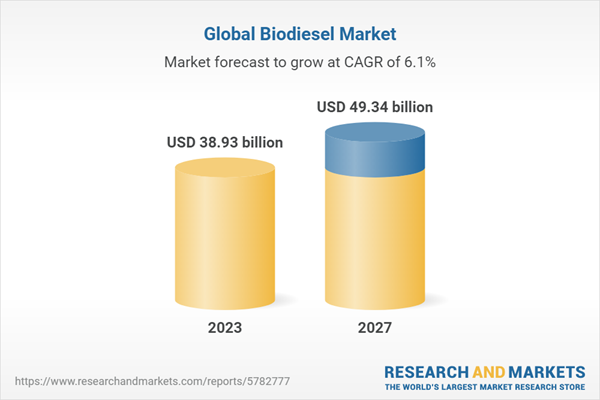 Dublin, May 11, 2023 (GLOBE NEWSWIRE) — The "Biodiesel Global Market Report 2023" report has been added to ResearchAndMarkets.com's offering.
The global biodiesel market is expected to grow from $36.55 billion in 2022 to $38.93 billion in 2023 at a compound annual growth rate (CAGR) of 6.5%. The biodiesel market is expected to grow to $49.34 billion in 2027 at a CAGR of 6.1%.
The major feedstock involved in biodiesel is vegetable oil and animal fats. Vegetable oils refer to edible and non-edible oils that are extracted from various types of fruits, seeds, grains, and nuts. It is produced by transesterification and hydro-heating. It is used in several applications, such as, fuel, power generation, and agriculture.
The biodiesel market research report provides biodiesel market statistics, including biodiesel industry global market size, regional shares, competitors with a biodiesel market share, detailed biodiesel market segments, market trends and opportunities, and any further data you may need to thrive in the biodiesel industry. This biodiesel market research report delivers a complete perspective of everything you need, with an in-depth analysis of the current and future scenario of the industry.
Technological advancement is a key trend in the biodiesel market. Major companies operating in the biofuel market are focused on developing new technological solutions to strengthen their market position. For instance, in January 2022, Crown Iron Works, a US-based supplier of oilseed extraction technology, refining plants, and equipment, introduced ACRE, or Advanced Catalyst Reduction and Economization.
ACRE is a process upgrade to refine its biodiesel process technology. The ACRE uses a third transesterification reactor to increase residence time and accomplish stoichiometric reactions. It is utilized to make the most of the catalyst's potential for reuse. Along with catalyst reduction, ACRE is energy-efficient, which helps biodiesel producers save money on steam and electricity.
The amount of fresh steam injected is decreased by using economizers and heat exchangers to use extra process heat. One of Crown's most recent inventions is ACRE. As a result, new biodiesel processing technologies keep developing, promising to optimize output by increasing efficiency and lowering prices.
In June 2022, Chevron, a US-based energy corporation, acquired Renewable Energy Group for an undisclosed amount. With this acquisition, Chevron will offer affordable, low-carbon solutions that make use of current fleets and infrastructure, and both organizations will have the expertise, assets, and customer connections to propel Chevron to the forefront of renewable fuels in the United States. Renewable Energy Group is a US-based biodiesel production company.
Western Europe was the largest region in the biodiesel market in 2022. Asia-Pacific is expected to be the fastest-growing region in the forecast period. The countries covered in the biodiesel market report are Australia, Brazil, China, France, Germany, India, Indonesia, Japan, Russia, South Korea, UK, USA.
An increase in demand for biofuels is expected to propel the growth of the biodiesel market. Biofuels are a cleaner-burning substitute generated from renewable resources, including fresh and used vegetable oils and animal fats. The rising environmental concerns and increasing demand for the adoption of renewable and sustainable energy sources favor the need for biofuel. Biodiesel is a biofuel that helps reduce the carbon footprint of transportation and other industries.
For instance, in November 2021, according to a report published by the International Energy Agency (IEA), a France-based autonomous intergovernmental organization, biodiesel consumption was 47,867 million liters in 2022, an increase from 43,855 million liters in 2020. Moreover, biodiesel consumption is expected to reach 51,424 million liters in 2026. Therefore, an increase in biofuel demand is driving the biodiesel market's growth.
Biodiesel Market Competitive Landscape And Company Profiles
Archer-Daniels-Midland Company
Cargill Incorporated
Renewable Energy Group Incorporated
Wilmar International Limited
Bunge Limited
Neste Oyj
Ag Processing Inc.
FutureFuel Corporation
TerraVia Holdings Incorporated
VERBIO Vereinigte BioEnergie AG
Emami Group
Munzer Bioindustrie
BIOX Corporation
Shell Public limited Company
World Energy LLC
Key Attributes:
| | |
| --- | --- |
| Report Attribute | Details |
| No. of Pages | 250 |
| Forecast Period | 2023 – 2027 |
| Estimated Market Value (USD) in 2023 | $38.93 billion |
| Forecasted Market Value (USD) by 2027 | $49.34 billion |
| Compound Annual Growth Rate | 6.1% |
| Regions Covered | Global |
Key Topics Covered:
1. Executive Summary
2. Biodiesel Market Characteristics
3. Biodiesel Market Trends And Strategies
4. Biodiesel Market – Macro Economic Scenario
4.1. COVID-19 Impact On Biodiesel Market
4.2. Ukraine-Russia War Impact On Biodiesel Market
4.3. Impact Of High Inflation On Biodiesel Market
5. Biodiesel Market Size And Growth
5.1. Global Biodiesel Historic Market, 2017-2022, $ Billion
5.1.1. Drivers Of The Market
5.1.2. Restraints On The Market
5.2. Global Biodiesel Forecast Market, 2022-2027F, 2032F, $ Billion
5.2.1. Drivers Of The Market
5.2.2. Restraints On the Market
6. Biodiesel Market Segmentation
6.1. Global Biodiesel Market, Segmentation By Feedstock, Historic and Forecast, 2017-2022, 2022-2027F, 2032F, $ Billion
Vegetable Oil
Animal Fats
6.2. Global Biodiesel Market, Segmentation By Production Process, Historic and Forecast, 2017-2022, 2022-2027F, 2032F, $ Billion
Alcohol Trans Esterification
Hydro-Heating
6.3. Global Biodiesel Market, Segmentation By Application, Historic and Forecast, 2017-2022, 2022-2027F, 2032F, $ Billion
Fuel
Power Generation
Agriculture
7. Biodiesel Market Regional And Country Analysis
7.1. Global Biodiesel Market, Split By Region, Historic and Forecast, 2017-2022, 2022-2027F, 2032F, $ Billion
7.2. Global Biodiesel Market, Split By Country, Historic and Forecast, 2017-2022, 2022-2027F, 2032F, $ Billion
For more information about this report visit https://www.researchandmarkets.com/r/viiulp
About ResearchAndMarkets.com
ResearchAndMarkets.com is the world's leading source for international market research reports and market data. We provide you with the latest data on international and regional markets, key industries, the top companies, new products and the latest trends.
Attachment

(GlobeNewsWire)