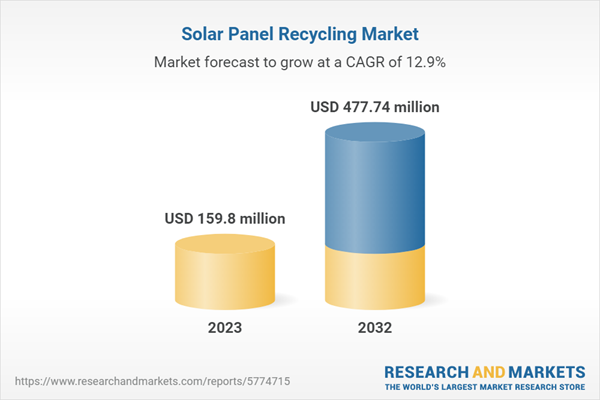 Dublin, April 26, 2023 (GLOBE NEWSWIRE) — The "Solar Panel Recycling Market Share, Size, Trends, Industry Analysis Report, By Type , By Process, By Shelf Life, By Region, Segment Forecast, 2023- 2032" report has been added to ResearchAndMarkets.com's offering.
The global solar panel recycling market size is expected to reach USD 477.74 million by 2032, according to a new study. The report gives a detailed insight into current market dynamics and provides analysis on future market growth.
Recycling the waste from solar panels that have reached the end of their useful lives can help to recover valuable resources and create jobs. The International Renewable Energy Agency estimates, by 2030, the value of clean energy raw materials from panels will be about USD 450 million globally.
This is equal to the price of raw materials required to produce about 60 million new panels today. Recycling solar panels instead of dumping them in landfills saves landfill space and maximizes the value of the raw materials.
India currently does not have any system to manage solar waste. Considering the country's solar target of 280 GW, by 2030, it is adopting a solar waste management policy. As per the "National Solar Energy Federation" of India, SolarPower Europe & the PVCycle, funded by the EU in India & the Union Ministry of New and Renewable Energy, could produce around 34,600 tonnes of solar waste in the country, by 2030. This will further create a wide range of opportunities for the expansion of the market.
Government regulations are influencing the growth of the market. This includes the implementation of waste management and recycling regulations, as well as financial incentives and subsidies for companies involved in the recycling of solar panels. California and Washington have developed regulations for extended producer responsibility (EPR). Manufacturers of the PV modules also contribute to the recycling of such modules that are sold in at no cost to the consumer.
Furthermore, the Australian federal government has addressed the issue and allocated a $2 million grant as a part of the National Product Stewardship Investment Fund for the creation and implementation of an industry-led product stewardship programme for PV systems. This will further propel the demand and growth for solar panel recycling in the upcoming years.
Solar Panel Recycling Market Report Highlights
Silicon segment is anticipated to grow at a higher rate owing to the increasing demand for solar energy and the need to address the environmental and health concerns associated with the disposal of PV panels.
Mechanical segment accounted for the higher growth rate owing to the development of new mechanical recycling technologies and processes.
Early Loss segment is projected to experience a significant growth rate due to the growing need for sustainable and responsible recycling solutions for the increasing number of decommissioned solar panels.
North America is expected to grow at a significant growth rate owing to the stringent regulations by the government in this region.
The publisher has segmented the solar panel recycling market report based on type, process, shelf life, and region:
Solar Panel Recycling, Type Outlook (Revenue – USD Million, 2019 – 2032)
Silicon
Monocrystalline
Polycrystalline
Thin-film
Solar Panel Recycling, Process Outlook (Revenue – USD Million, 2019 – 2032)
Solar Panel Recycling, Shelf Life Outlook (Revenue – USD Million, 2019 – 2032)
Solar Panel Recycling, Regional Outlook (Revenue – USD Million, 2019 – 2032)
North America
U.S.
Canada
Europe
Germany
UK
France
Italy
Spain
Russia
Netherlands
Asia Pacific
China
India
Japan
South Korea
Indonesia
Malaysia
Latin America
Argentina
Brazil
Mexico
Middle East & Africa
UAE
Saudi Arabia
Israel
South Africa
Key Attributes:
| | |
| --- | --- |
| Report Attribute | Details |
| No. of Pages | 118 |
| Forecast Period | 2023 – 2032 |
| Estimated Market Value (USD) in 2023 | $159.8 million |
| Forecasted Market Value (USD) by 2032 | $477.74 million |
| Compound Annual Growth Rate | 12.9% |
| Regions Covered | Global |
Key Topics Covered:
1. Introduction
2. Executive Summary
3. Research Methodology
4. Global Solar Panel Recycling Market Insights
4.1. Solar Panel Recycling Market – Shelf Life Snapshot
4.2. Solar Panel Recycling Market Dynamics
4.2.1. Drivers and Opportunities
4.2.1.1. Increase in government activities toward the promotion of solar energy
4.2.1.2. Rise in demand for solar photovoltaic panels from residential, commercial, industrial applications
4.2.2. Restraints and Challenges
4.2.2.1. Lack of solar panel recycling infrastructure and problems associated with the recycling
5. Global Solar Panel Recycling Market, by Type
6. Global Solar Panel Recycling Market, by Process
7. Global Solar Panel Recycling Market, by Shelf Life
8. Global Solar Panel Recycling Market, by Geography
9. Competitive Landscape
10. Company Profiles
Companies Mentioned
First Solar
Echo Environmental
Silcontel
Canadian Solar
Silrec
SunPower
Reiling GmbH & Co. KG
Trina Solar
Aurubis
Envaris
SiC Processing GmbH
Yingli Energy
Hanwha Group.
For more information about this report visit https://www.researchandmarkets.com/r/80vzsj
About ResearchAndMarkets.com
ResearchAndMarkets.com is the world's leading source for international market research reports and market data. We provide you with the latest data on international and regional markets, key industries, the top companies, new products and the latest trends.
Attachment
Solar Panel Recycling Market

(GlobeNewsWire)