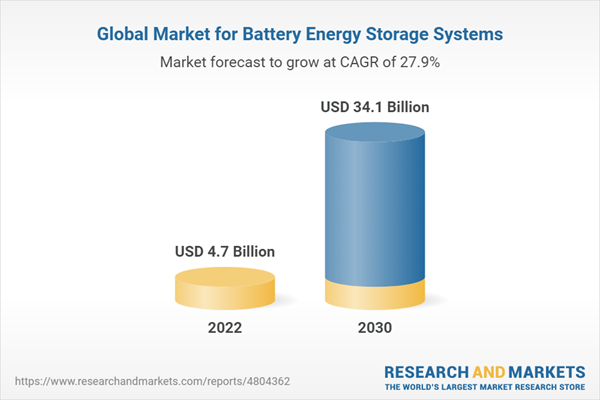 Dublin, March 31, 2023 (GLOBE NEWSWIRE) — The "Battery Energy Storage Systems: Global Strategic Business Report" report has been added to ResearchAndMarkets.com's offering.
The global market for Battery Energy Storage Systems estimated at US$4.7 Billion in the year 2022, is projected to reach a revised size of US$34.1 Billion by 2030, growing at a CAGR of 27.9% over the analysis period 2022-2030.
Battery, one of the segments analyzed in the report, is projected to record 29.5% CAGR and reach US$25.7 Billion by the end of the analysis period.
Taking into account the ongoing post pandemic recovery, growth in the Other Elements segment is readjusted to a revised 24% CAGR for the next 8-year period.
The U.S. Market is Estimated at $1.3 Billion, While China is Forecast to Grow at 33.9% CAGR
The Battery Energy Storage Systems market in the U.S. is estimated at US$1.3 Billion in the year 2022. China, the world's second largest economy, is forecast to reach a projected market size of US$7.5 Billion by the year 2030 trailing a CAGR of 33.9% over the analysis period 2022 to 2030.
Among the other noteworthy geographic markets are Japan and Canada, each forecast to grow at 21.8% and 27.1% respectively over the 2022-2030 period. Within Europe, Germany is forecast to grow at approximately 25.9% CAGR.
Select Competitors (Total 85 Featured) –
ABB Ltd
AEG Power Solutions
Amara Raja Group
BYD Co. Ltd.
Delta Electronics, Inc.
Exide Industries Limited
General Electric Company
Hitachi, Ltd.
Johnson Controls, Inc.
LG Chem Ltd.
NEC Corporation
Panasonic Corporation
Primus Power Corporation
Samsung SDI Co., Ltd.
Siemens AG
Tesla, Inc.
The AES Corporation
Toshiba Corporation
What`s New for 2023?
Special coverage on Russia-Ukraine war; global inflation; easing of zero-Covid policy in China and its `bumpy` reopening; supply chain disruptions, global trade tensions; and risk of recession.
Global competitiveness and key competitor percentage market shares
Market presence across multiple geographies – Strong/Active/Niche/Trivial
Online interactive peer-to-peer collaborative bespoke updates
Access to digital archives and Research Platform
Complimentary updates for one year
Key Attributes:
| | |
| --- | --- |
| Report Attribute | Details |
| No. of Pages | 427 |
| Forecast Period | 2022 – 2030 |
| Estimated Market Value (USD) in 2022 | $4.7 Billion |
| Forecasted Market Value (USD) by 2030 | $34.1 Billion |
| Compound Annual Growth Rate | 28.1% |
| Regions Covered | Global |
Key Topics Covered:
I. METHODOLOGY
II. EXECUTIVE SUMMARY
1. MARKET OVERVIEW
Impact of COVID-19 Pandemic and Looming Global Recession: 2020 Marked as a Year of Disruption & Transformation
As the Race between the Virus & Vaccines Intensifies, Where is the World Economy Headed in 2021?
World Economic Growth Projections (Real GDP, Annual % Change) for 2020 through 2022
Disruption to Supply Chains Impacts Battery Materials Market Prospects
COVID-19 Crisis Underlines the Need for Sustainable Development
A World in the Midst of a Pandemic Throws Energy Demand into Crisis & Leaves Energy Investments in Shambles: Percentage Share of Energy Use Impacted by Lockdowns
Total Electrical Energy Stored Over Lifetime (ESOI) of Storage Technology
Post Pandemic Period Presents Robust Growth for Energy Storage Technologies
Battery Energy Storage Systems – Global Key Competitors Percentage Market Share in 2022 (E)
Competitive Market Presence – Strong/Active/Niche/Trivial for Players Worldwide in 2022 (E)
An Introduction to Battery Energy Storage Systems
The Technologies
Key Applications of BESS
Global Market Prospects & Outlook
Grid Modernization Initiatives Drive the World Battery Energy Storage Systems Market
Pandemic Impacts the Market Over the Short Term
Analysis by Battery Chemistry
World Battery Energy Storage Systems Market by Battery Chemistry (2021 & 2027): Percentage Breakdown of Sales for Lithium-Ion, Flow, Advanced Lead-Acid, and Other Battery Chemistries
Analysis by Application
World Battery Energy Storage Systems Market by Application (2021 & 2027): Percentage Breakdown of Sales for Utilities, Residential, and Other Applications
Regional Analysis
World Battery Energy Storage Systems Market by Region (2021 & 2027): Percentage Breakdown of Sales for Developed and Developing Regions
World Battery Energy Storage Systems Market – Geographic Regions Ranked by CAGR (Sales) for 2020-2027: China, Asia-Pacific, Rest of World, Canada, USA, Europe, and Japan
Competitive Scenario
Recent Market Activity
Select Innovations & Advancements
2. FOCUS ON SELECT PLAYERS
3. MARKET TRENDS & DRIVERS
Key Trends Driving the Battery Energy Storage Systems Market
Growth of Intermittent Renewable Energy Sources and the Resulting Need for Energy Storage: A Key Opportunity for Battery Energy Storage Systems
Global Energy Production by Energy Source (2017, 2020, 2030 and 2040): Breakdown of Electricity (Billion Kilowatt Hours) and Percentage Share for Petroleum, Nuclear, Natural Gas, Coal and Renewables
Targets for Electricity Production from Renewable Energy Sources in Select Countries
Investment Scenario on Renewable Energy Remains Impacted
Global Investments in Clean Energy & Efficiency Technologies (In US$ Billion) for the Years 2018, 2019 & 2020
Inevitable Rise in Energy Demand Post COVID-19 to Throw Spotlight on Renewable Energy & Energy Storage Technologies
Burgeoning Global Population Propels Demand for Electric Power
World Population (in Thousands) by Geographic Region for the Years 2019, 2030, 2050, 2100
Growing Investments in Renewable Energy to Trigger Growth in Energy Storage Domain
Optimization of Plant Efficiency Using Smart Solutions for Energy Storage
Established Image of Lithium-ion Batteries to Drive Market Momentum
Li-ion Batteries Vs Flow Batteries
Flow Batteries: One of the Key Battery Chemistries of BESS
World Flow Battery by Geographic Region – Annual Sales in US$ Million for Years 2021 and 2027
Growing Opportunities for Flow Batteries in Clean Energy Space
New Solar Flow Battery with Increased Energy Conversion Efficiency
Pandemic Impact on the Vanadium Redox Battery Market
World Vanadium Redox Battery by Geographic Region – Annual Sales in US$ Million for Years 2021 and 2027
Vanadium Redox Flow Batteries Face Stiff Challenge in Replacing Li-ion Batteries for Utility-Scale Storage
Utilities: The Major End-Use Market for Battery Energy Storage Systems
Need for Improved Energy Management amidst Increasing Demand for Electricity Benefits Market Expansion
Global Energy Demand & Growth (In Million Tonnes of Oil Equivalent (Mtoe)) for the Years 1990, 2000, 2010, 2020, 2030 and 2040
Grid Modernization Programs Emphasize Grid Connected Energy Storage
Global Investments in Electricity Networks and Storage (In US$ Billion): 2000, 2008, 2012, 2016, and 2019
Smart Grids Elevate the Prospects for BESS
Global Market for Smart Grids (in US$ Billion) by Region for the Years 2018 and 2020
Residential Applications to Witness Increased Penetration of BESS in the Long Run
Robust Outlook for EVs Opens New Avenues of Growth for EV Batteries & BESS Integrated EVCS Market
With COVID-19 Pandemic Affecting EV Sales, Prospects Hit for Battery Materials and BESS Market
Global Electric Vehicle Sales % Change in 2020
Increasing Importance of Batteries in the Modern World Presents Opportunities for Cathode Materials
Global Cathode Materials Market by Application (in %) for 2020E
Recycling of Battery Systems
Challenges Confronting the Global Battery Storage System Market
4. GLOBAL MARKET PERSPECTIVE
III. MARKET ANALYSIS
IV. COMPETITION
For more information about this report visit https://www.researchandmarkets.com/r/xm44wz
About ResearchAndMarkets.com
ResearchAndMarkets.com is the world's leading source for international market research reports and market data. We provide you with the latest data on international and regional markets, key industries, the top companies, new products and the latest trends.
Attachment
Global Market for Battery Energy Storage Systems

(GlobeNewsWire)