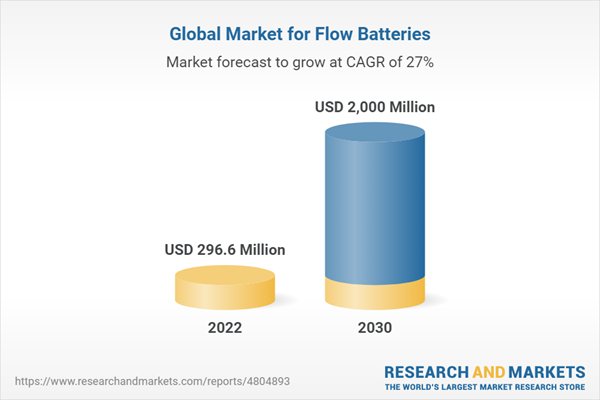 Dublin, March 23, 2023 (GLOBE NEWSWIRE) — The "Flow Batteries: Global Strategic Business Report" report has been added to ResearchAndMarkets.com's offering.
The global market for Flow Batteries estimated at US$296.6 Million in the year 2022, is projected to reach a revised size of US$2 Billion by 2030, growing at a CAGR of 27% over the analysis period 2022-2030.
Vanadium, one of the segments analyzed in the report, is projected to record a 26.4% CAGR and reach US$1.3 Billion by the end of the analysis period.
Taking into account the ongoing post pandemic recovery, growth in the Zinc-Bromine segment is readjusted to a revised 29.4% CAGR for the next 8-year period.
The U.S. Market is Estimated at $61 Million, While China is Forecast to Grow at 32.4% CAGR
The Flow Batteries market in the U.S. is estimated at US$61 Million in the year 2022. China, the world's second largest economy, is forecast to reach a projected market size of US$402.4 Million by the year 2030 trailing a CAGR of 32.4% over the analysis period 2022 to 2030.
Among the other noteworthy geographic markets are Japan and Canada, each forecast to grow at 23.5% and 24.9% respectively over the 2022-2030 period. Within Europe, Germany is forecast to grow at approximately 25% CAGR.
Select Competitors (Total 51 Featured) –
Elestor BV
ESS, Inc.
Invinity Energy Systems Plc
JenaBatteries GmbH
Kemwatt SAS
Largo Clean Energy Corp.
Lockheed Martin Corporation
nanoFlowcell Holdings Ltd.
Primus Power Corp.
Redflow Ltd.
SCHMID GmbH
Sumitomo Electric Industries, Ltd.
UniEnergy Technologies LLC (UET)
ViZn Energy Systems, Inc.
Volterion GmbH
VoltStorage GmbH
VRB Energy
Key Attributes:
| | |
| --- | --- |
| Report Attribute | Details |
| No. of Pages | 295 |
| Forecast Period | 2022 – 2030 |
| Estimated Market Value (USD) in 2022 | $296.6 Million |
| Forecasted Market Value (USD) by 2030 | $2000 Million |
| Compound Annual Growth Rate | 26.9% |
| Regions Covered | Global |
Key Topics Covered:
I. METHODOLOGY
II. EXECUTIVE SUMMARY
1. MARKET OVERVIEW
Influencer Market Insights
An Introduction to Flow Batteries
Types of Flow Batteries & Technologies
Advantages & Disadvantages of Flow Batteries
Applications of Flow Batteries
Impact of COVID-19 Pandemic and Looming Global Recession
World Shifts to an Endemic COVID-19 Strategy With Focus on Multilateral Approach to Managing Future Pandemics
Why Multilateral Approach is Key to Dealing With Future Pandemics
War, Inflation & High Cost of Living Crisis Supersede COVID-19 as Major Downside Risks for the Global Economy in 2022 & Beyond
Here's How Inflationary Pressures Affect the Economy
Russia-Ukraine War, the Primary Culprit Responsible for the Hardships
Stubbornly High Inflation to Single Handedly Drag Down Global Growth
Here's What's Causing the Current Spike in Inflation
Shaken by the War, Global Oil Prices Spiral and Feed Inflationary Pressures, Guiding the World Towards a Cost of Living Crisis: Global Average Annual Brent Crude Oil Price (In US$ Per Barrel) for Years 2017 through 2022`
War-Induced Commodity Price Increases & Broad Based Price Pressures Mark the Return of Global Inflation in 2022 to the Highest Level Seen Since 1996: Global Inflation Rates (In %) for the Years 2019 Through 2024
War, Global Inflation, Cost of Living Crisis, Failed Fiscal Policy Attempts to Restore Price Stability & Contain Downside Risks to Result in Sharper-Than-Expected Slowdown in Global Economic Growth: World Economic Growth Projections (Real GDP, Annual % Change) for the Years 2020, 2021, 2022 and 2023
Recession Triggered by Uncontrolled Inflation or Unemployment, Which is the Greater Evil? Inflation Battling Policy Measures to Slowdown Post Pandemic Recovery in Unemployment Rates: Global Number of Unemployed People (In Million) for Years 2019 Through 2023
COVID-19 Impact On Flow Batteries Market
Global Market Prospects & Outlook
Developing Economies to Boost Future Growth
World of Opportunity Ahead for Flow Batteries
Vanadium Flow Batteries Hog the Spotlight
Electrifying Growth from Utilities
Competition
Flow Batteries – Global Key Competitors Percentage Market Share in 2022 (E)
Competitive Market Presence – Strong/Active/Niche/Trivial for Players Worldwide in 2022 (E)
World Brands
Recent Market Activity
2. FOCUS ON SELECT PLAYERS
3. MARKET TRENDS & DRIVERS
Growth of Intermittent Renewable Energy Sources and the Resulting Need for Energy Storage: A Key Opportunity for Flow Batteries
Global Energy Production: Breakdown of Electricity (Billion Kilowatt Hours) and Percentage Share by Energy Source (2030 & 2040)
Targets for Electricity Production from Renewable Energy Sources in Select Countries
Inevitable Rise in Energy Demand Post COVID-19 to Throw Spotlight on Renewable Energy & Energy Storage Technologies
Will Flow Batteries Surpass Li-ion for Large-scale Energy Storage
Energy Storage Grange Challenge
Burgeoning Global Population Propels Demand for Electric Power
World Population (in Thousands) by Geographic Region for the Years 2019, 2030, 2050, 2100
Growing Opportunities for Flow Batteries in Clean Energy Space
Flow Batteries: Potential to be a Game Changer for Electric Vehicles
EV Industry Likely to See Significant Changes in Post COVID Period
Stringent Regulations Encompassing Emission Control & Phase-Out of Fossil Fuel Vehicles Prep the Auto Industry for an Electrified Future
Global Investments in Clean Energy & Efficiency Technologies (In US$ Billion) for the Years 2018, 2019 & 2020
Growing EV Adoption Pushes Up Stakes for Flow Batteries
Global Electric Car Fleet Size (In Thousand Units) for the Years 2014, 2016, 2018 and 2021
Utilities: The Major End-Use Market for Flow Batteries
Need for Improved Energy Management amidst Increasing Demand for Electricity Benefits Market Expansion
Global Energy Demand & Growth (In Million Tonnes of Oil Equivalent (Mtoe)) for the Years 1990, 2000, 2010, 2020, 2030 and 2040
Electricity Demand Patterns Encourage Market Expansion
Grid Modernization Programs Emphasize Grid Connected Energy Storage
Global Investments in Electricity Networks and Storage (In US$ Billion): 2000, 2008, 2012, 2016, and 2019
Flow Batteries for Grid Storage
Redox Flow Battery for the Grid-Scale
Smart Grids Elevate the Prospects for Flow Batteries
Global Market for Smart Grids (in US$ Billion) by Region for the Years 2018 and 2020
Complex Infrastructure and Scale of Modern Data Centers Necessitates Energy Storage: Potential for Flow Batteries
Rapid Growth in Telecom Tower Installations Fuels Need for Flow Batteries
Residential Applications to Witness Increased Penetration of Flow Batteries in the Long Run
Flow Batteries to Emerge as a Reliable Tool in Military Microgrids
Vanadium Emerges as a Preferred Electrolyte in Flow Batteries
Vanadium Flow Batteries Unveil Opportunities in Energy Storage
Vanadium Redox Flow Batteries: A High Growth Market
VRFBs Demonstrate Efficiency in Sustainable Energy Applications
Vanadium Redox Flow Batteries Face Stiff Challenge in Replacing Li-ion Batteries for Utility-Scale Storage
Bromine Flow Batteries: Opportunities in Store
Hybrid Flow Battery Market: An Overview
Zinc-Bromine (ZnBr) Chemistry: A Reliable Hybrid Flow Battery
Redox Flow Batteries: Significant Potential in Storage Battery Market
RFB Holds Immense Potential in Mitigating Supply & Demand Issues
Technological Innovations & Advancements Drive Flow Batteries Demand
New Solar Flow Battery with Increased Energy Conversion Efficiency
MIT Develops Chitin-Electrode Based Vanadium Flow Batteries
CIC EnergiGUNE Develops Novel Redox Organic Flow Battery
USC Research Team Develops AQDS-Iron Sulphate Based New Redox Flow Battery
Stanford Researchers Create New Type of Liquid Metal Based Flow Battery
IBM and ETH Develop Tiny Redox Flow Battery for Electronic Components
MIT Researchers Develop Sulfur Flow Battery for Cost-Efficient Long-Term Grid Storage
Harvard Researchers Demonstrate New Methuselah Quinone for Organic Flow Battery
Researchers Develop Aluminum-Air Flow Battery for EVs
Gelion's Flow Batteries Emerge as Alternatives to Li-Ion Batteries
ViZn Energy's Flow Batteries
Flow Batteries Vs Li-ion and PbA Batteries: A Review
Rentable Electrolytes Model Comes into Spotlight for Flow Batteries to Compete Against Lithium Ion Batteries
Challenges Confronting Flow Batteries Market
4. GLOBAL MARKET PERSPECTIVE
III. MARKET ANALYSIS
IV. COMPETITION
For more information about this report visit https://www.researchandmarkets.com/r/4wovyq
About ResearchAndMarkets.com
ResearchAndMarkets.com is the world's leading source for international market research reports and market data. We provide you with the latest data on international and regional markets, key industries, the top companies, new products and the latest trends.
Attachment
Global Market for Flow Batteries

(GlobeNewsWire)