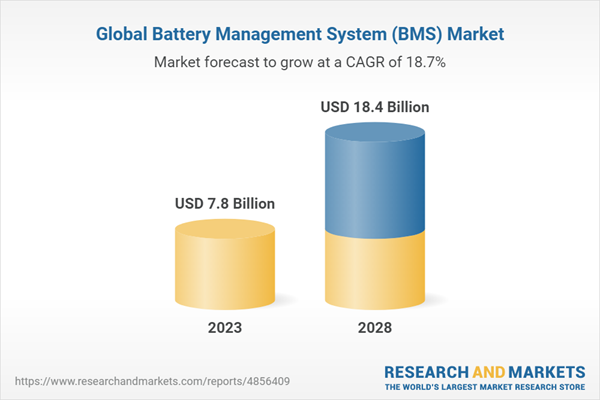 Dublin, Feb. 09, 2023 (GLOBE NEWSWIRE) — The "Global Battery Management System (BMS) Market" report has been added to ResearchAndMarkets.com's offering.
The global battery management system (BMS) market is expected to grow from USD 7.8 billion in 2023 to USD 18.4 billion by 2028, at a CAGR of 18.7% from 2023 to 2028
The battery management system is implemented to manage high-energy batteries efficiently. The functions of the battery management system may vary according to the properties and requirements of the battery it is incorporated into.
The battery management system market based on battery type has been segmented into lithium-ion, lead-acid, nickel-based batteries, and others. Most end-users choose the most suitable battery type according to their requirements and the nature of the application. Lithium-ion is a widely used battery in applications such as automobiles and renewable energy systems.
Renewable energy application to hold a significant share of battery management system market in 2028
Both on-grid and off-grid renewable energy deployments are witnessing steady growth, with batteries being used for energy storage applications for many years. However, battery storage technology has gained greater traction and supports higher electricity generation levels from renewable energy – particularly wind and solar.
The rapid fall in battery cost has increased the popularity of battery storage as an option for storing electricity from renewable sources at the household, business, and community levels. These batteries need battery management systems for efficient operations, tracking battery voltage, the amount of power consumed, the state of charge of the battery, etc. In addition, the battery management system in renewable energy is required for PV time shift, peak shaving, and grid support.
Europe is expected to grow at an impressive CAGR during the forecast period
Germany, France, and the UK are among the major European economies. These countries are technologically developed and are also major manufacturing hubs for the automotive and aerospace & defense verticals.
Five countries, Germany, France, the Netherlands, Sweden, and Belgium, accounted for more than three-quarters of all electrically chargeable cars in the EU. As there is a growing trend of adoption for electric vehicles in Europe, the requirement for battery management systems is also expected to increase to effectively manage batteries in electric vehicles.
Major players profiled in this report are: Sensata Technologies, Inc. (Japan), Eberspacher (Germany), Panasonic Holdings Corporation (Japan), and LG Energy Solution, Ltd. (South Korea).
Key Metrics
| | |
| --- | --- |
| Report Attribute | Details |
| No. of Pages | 227 |
| Forecast Period | 2023 – 2028 |
| Estimated Market Value (USD) in 2023 | $7.8 Billion |
| Forecasted Market Value (USD) by 2028 | $18.4 Billion |
| Compound Annual Growth Rate | 18.7% |
| Regions Covered | Global |
Premium Insights
Growing Electric Vehicle Market to Fuel Demand for Battery Management Systems During Forecast Period
Motive Batteries to Account for Largest Market Share by 2028
Lithium-Ion to Surpass Other Battery Type Segments During Forecast Period
Modular Segment to Command Leading Position Between 2023 to 2028
Automotive to Register Highest CAGR During Forecast Period
Automotive and US to be Largest Shareholders in North America
China and Germany to Exhibit Highest CAGR in Battery Management System Market by 2028
Market Dynamics
Drivers
Growing Penetration of Electric Vehicles
High Demand for Battery Monitoring Solutions in Renewable Energy Sector
Need for Effective Power Grid Management
Restraints
Lack of Standardization in Battery Management Solutions
Opportunities
Increasing Electrification of Public Transportation
Rising Demand from Data Centers
Supportive Government Initiatives for Electric Vehicles
Advantages of Wireless Battery Management Systems
Challenges
Complex Designing Process
Impact of External Factors on Performance
Value Chain Analysis
Ecosystem Analysis
Pricing Analysis
Trends/Disruptions Impacting Customer Businesses
Technology Analysis
Artificial Intelligence
Digital Twin
Case Study Analysis
Case Study 1: State-of-the-Art PRT System to Tackle Public Transport Issues
Case Study 2: Lead Batteries and Battery Management Systems to Manage Microgrid
Case Study 3: Designing Reliable Battery Management Systems to Overcome Common Errors
Company Profiles
Key Players
Eberspacher
Panasonic Holdings Corporation
Renesas Electronics Corporation
Sensata Technologies, Inc.
Texas Instruments
Analog Devices, Inc.
Infineon Technologies AG
LG Energy Solution, Ltd.
NXP Semiconductors N.V.
STMicroelectronics
Other Important Players
Contemporary Amperex Technology Co. Limited
BYD Company Limited
SK Innovation Co. Ltd.
Other Players
AMP
AVL List GmbH
BMS Powersafe
Elithion, Inc.
Ewert Energy Systems, Inc.
Exponential Power, Inc.
Ficosa Group
Futavis GmbH
Hangzhou Xieneng Technology Co. Ltd.
Leclanche SA
Nuvation Engineering
Powertech Systems
Ricardo
Roboteq
Tronico
Xing Mobility
For more information about this report visit https://www.researchandmarkets.com/r/ddk44z-battery?w=12
About ResearchAndMarkets.com
ResearchAndMarkets.com is the world's leading source for international market research reports and market data. We provide you with the latest data on international and regional markets, key industries, the top companies, new products and the latest trends.
Attachment
Global Battery Management System (BMS) Market