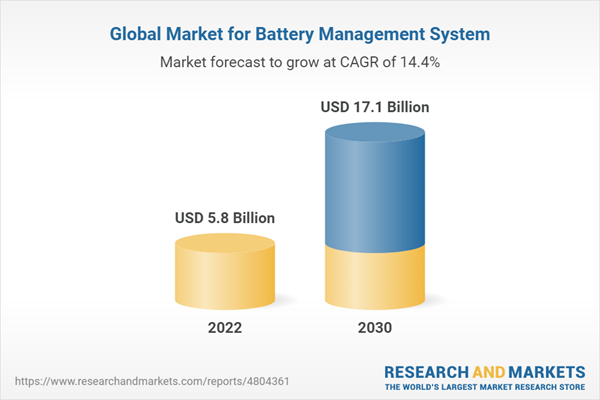 Dublin, Jan. 30, 2023 (GLOBE NEWSWIRE) — The "Battery Management System – Global Strategic Business Report" report has been added to ResearchAndMarkets.com's offering.
Global Battery Management System Market to Reach $17.1 Billion by 2030
The global market for Battery Management System estimated at US$5.8 Billion in the year 2022, is projected to reach a revised size of US$17.1 Billion by 2030, growing at a CAGR of 14.4% over the analysis period 2022-2030.
Advanced Lead-Acid Battery, one of the segments analyzed in the report, is projected to record a 14.6% CAGR and reach US$8.4 Billion by the end of the analysis period. Taking into account the ongoing post pandemic recovery, growth in the Lithium-Ion Battery segment is readjusted to a revised 15.1% CAGR for the next 8-year period.
The U.S. Market is Estimated at $1.6 Billion, While China is Forecast to Grow at 21.6% CAGR
The Battery Management System market in the U.S. is estimated at US$1.6 Billion in the year 2022. China, the world's second largest economy, is forecast to reach a projected market size of US$4.7 Billion by the year 2030 trailing a CAGR of 21.6% over the analysis period 2022 to 2030.
Among the other noteworthy geographic markets are Japan and Canada, each forecast to grow at 10.4% and 12% respectively over the 2022-2030 period. Within Europe, Germany is forecast to grow at approximately 11% CAGR. Led by countries such as Australia, India, and South Korea, the market in Asia-Pacific is forecast to reach US$2.4 Billion by the year 2030.
Looking Ahead to 2023
Fears of new COVID outbreaks and China's already uncertain post-pandemic path poses a real risk of the world experiencing more acute supply chain pain and manufacturing disruptions this year. Volatile financial markets, growing trade tensions, stricter regulatory environment and pressure to mainstream climate change into economic decisions will compound the complexity of challenges faced.
What`s New for 2023?
Special coverage on Russia-Ukraine war; global inflation; easing of zero-Covid policy in China and its `bumpy` reopening; supply chain disruptions, global trade tensions; and risk of recession.
Global competitiveness and key competitor percentage market shares
Market presence across multiple geographies – Strong/Active/Niche/Trivial
Online interactive peer-to-peer collaborative bespoke updates
Access to digital archives and Research Platform
Complimentary updates for one year
Key Metrics
| | |
| --- | --- |
| Report Attribute | Details |
| No. of Pages | 229 |
| Forecast Period | 2022 – 2030 |
| Estimated Market Value (USD) in 2022 | $5.8 Billion |
| Forecasted Market Value (USD) by 2030 | $17.1 Billion |
| Compound Annual Growth Rate | 14.5% |
| Regions Covered | Global |
Key Topics Covered:
1. MARKET OVERVIEW
Influencer Market Insights
World Market Trajectories
Introduction
Flow Battery Management System (FBMS)
Global Battery Management System Market by Application Type: 2018
Battery Management System – Global Key Competitors Percentage Market Share in 2022 (E)
Competitive Market Presence – Strong/Active/Niche/Trivial for Players Worldwide in 2022 (E)
Impact of Covid-19 and a Looming Global Recession
2. FOCUS ON SELECT PLAYERS (Total 11 Featured)
Analog Devices, Inc.
Eberspaecher Vecture Inc.
Elithion Inc.
Intersil Corporation
Johnson Matthey PLC
Lithium Balance A/S
Nuvation Engineering
NXP Semiconductors NV
Texas Instruments, Inc.
Valence Technology, Inc.
Ventec SAS
3. MARKET TRENDS & DRIVERS
Entering an Era of Autonomous Vehicles and Growing Role of Battery Management Systems
Rise in Market Penetration of EVs Drives Demand for Battery Management Systems
Global Electric Vehicle Production Forecasts by Type: 2015-2030
Share of Electric Vehicle of Total Passenger Vehicle Market: 2015-2030
Global Electric Vehicle Production: 2018-2030 (in Million Units)
Smart Homes Drive Demand Smart Battery Management Systems
Advances in Li-ion Battery Management
Rise in Demand for Renewable Energy Systems and the Growing Need for Efficient Battery Management
Global Electricity Generation by Source: 1990-2050 (in PWh/yr)
Global Solar PV Cumulative Capacity by Region (in Gigawatts): 2008-2018
Global Wind Energy Cumulative Capacity by Region (in Gigawatts): 2008-2018
Predictive Analysis to Aid in Battery Management of EVs
Wireless Battery Management Systems Gain Interest
Intelligent Battery Management Systems to Improve Energy Requirements in EVs
Focus Grows on Effective Designs to Combat Functional Challenges
4. GLOBAL MARKET PERSPECTIVE
For more information about this report visit https://www.researchandmarkets.com/r/xuactd
About ResearchAndMarkets.com
ResearchAndMarkets.com is the world's leading source for international market research reports and market data. We provide you with the latest data on international and regional markets, key industries, the top companies, new products and the latest trends.
Attachment
Global Market for Battery Management System