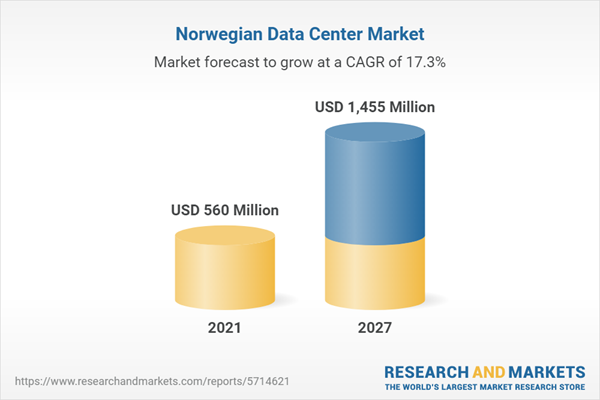 Dublin, Jan. 13, 2023 (GLOBE NEWSWIRE) — The "Norway Data Center Market – Investment Analysis & Growth Opportunities 2022-2027" report has been added to ResearchAndMarkets.com's offering.
The Norway data center market is expected to grow at a CAGR of 17.25% during 2022-2027. – Norway is among the prominent locations across the region regarding the availability and usage of renewable energy sources.
The government has taken several initiatives to grow renewable energy adoption, such as setting targets for achieving net zero emissions by the year 2050. The district heating system is among the major initiatives the country has significantly adopted toward a sustainable economy.
For instance, in February 2021, the Norwegian government announced a proposal to demand data center operators connect their facilities to the district heating system.
Norway data center market is a significantly growing industry in the Nordic region aided by factors that include government initiatives, growing cloud data center regions, adoption of advanced technology, growth in subsea & inland connectivity, and district heating systems. The country's government is working towards the digital transformation of government operations and the economy. The government of Norway has established its Norwegian Digitalization Agency, which aims to coordinate digitalization in the country strategically.
The government of Norway has established several industrial business parks that offer spaces for business for sustainable operations. Mo Industrial Park, Heroya Industrial Park, Haugaland Business Park, and Raufoss Industrial Park are some of the business parks in Norway. The Norway data center market is well connected to several major markets with around 11 submarine cables followed by upcoming cables such as Celtic Norse, Leif Erikson, and N0r5ke Viking, which will be ready for services in coming years.
Key Highlights
The Government of Norway is actively working to support the growth of the data center industry in the country. For instance, in 2018, the government introduced a Data Center Development Strategy (DCDS) to establish Norway as a Data Center Nation.
In June 2021, the Norwegian data center industry announced the establishment of Norsk Datasenterindustri (Norwegian Data Center Industry) to strengthen the industry in Norway.
Global cloud providers such as Amazon Web Services, IBM, and Microsoft Azure have a presence in the country. In September 2021, Microsoft announced the launch of three availability zones in its Norway East Azure Cloud region in Oslo. In addition, in October 2022, Google plans to establish the new Google cloud region in Norway.
In Norway, several sectors, such as BFSI, healthcare, education, hospitality, government, and transport, have migrated their resources to the cloud region. For instance, Moss Municipality has shifted some applications to Microsoft Azure.
In terms of 5G connectivity, telecom operators such as Telia, Nokia, Telenor, Ice, Ericsson, and Equinor, are involved in deploying the 5G network services across the country. For instance, in July 2022, Eltel Norway signed an agreement with Telenor to upgrade Telenor's telecommunication network with 5G network technology.
The Government of Norway has established The Norwegian Industrial Property Office (NIPO), which offers Norwegian industrial development and promotion of economic growth. This is expected to increase further availability of area and opportunities for industrial investment in the country.
Vendor Landscape
Norway data center market has several local and global operators, such as Green Mountain, LEFDAL MINE DATACENTER, Bulk Infrastructure, Basefarm (Orange), and STORESPEED are some of the major colocation operators in the country.
In addition, the country also witnessed investments from new entrants such as AQ Compute, STACK Infrastructure, and Namsos Datasenter.
The country witnessed the entry of new global service providers through acquisitions. For instance, in March 2022, IPI Partners announced operating its recently acquired DigiPlex's data centers in Norway under the name of STACK Infrastructure EMEA unit.
The increase in the deployment of the 5g network connectivity is aiding the Edge data centers investments that offer low latency and easy connectivity to tier II and tier III cities. For instance, in February 2022, Namsos Datasenter, in partnership with Keysource, a service provider, announced the deployment of an edge data center in Norway, which is expected to be operational in 2023.
Most of the facilities developed in the country adopt the district heating concept to supply the excess heat generated by the facilities to the local commercial and residential buildings. For instance, Green Mountain announced the expansion of its RJU1-Rjukan facility and plans to share waste heat from the facility with a nearby land-based fish farm.
Several operators in the country are investing in sustainable operations for their data centers. For instance, Green Mountain's upcoming project Kalberg site is powered by the Statnett substation, which is powered by three hydropower production projects. The site will have a 100% renewable energy supply from wind and hydro sources.
Norway data center market has a significant presence of local and global vendors regarding IT, support, and general construction services. For instance, CTS Nordics have been selected to provide design & build services for Green Mountain's data center expansion project in Oslo.
Major Vendors
IT Infrastructure Providers
Arista Networks
Cisco Systems
Dell Technologies
Hewlett Packard Enterprise
Huawei Technologies
Hitachi Vantara
IBM
Juniper Networks
Lenovo
NetApp
NetNordic
Oracle
Pure Storage
Super Micro Computer
Data Center Construction Contractors & Sub-Contractors
Coromatic
COWI
CTS Nordics
Designer Group
Keysource
RED Engineering
YIT
Support Infrastructure Providers
ABB
Alfa Laval
Carrier
Caterpillar
Cummins
Eaton
FlaktGroup
HITEC Power Protection
KOHLER-SDMO
Legrand
Piller Power Systems
Rittal
Rolls-Royce
Schneider Electric
Socomec
STULZ
Trane
Vertiv
Data Center Investors
Bulk Infrastructure
Green Mountain
Green Edge Compute
STORESPEED
New Entrants
AQ Compute
Namsos Datasenter
STACK Infrastructure (DigiPlex)
Key Questions Answered
1. How much is the Norway data center market investment expected to grow?
2. What is the growth rate of the Norway data center market?
3. How many data centers have been identified in Norway?
4. What are the driving factors for Norway data center market?
5. Who are the key investors in the Norway data center market?
| | |
| --- | --- |
| Report Attribute | Details |
| No. of Pages | 101 |
| Forecast Period | 2021 – 2027 |
| Estimated Market Value (USD) in 2021 | $560 Million |
| Forecasted Market Value (USD) by 2027 | $1455 Million |
| Compound Annual Growth Rate | 17.2% |
| Regions Covered | Norway |
Key Topics Covered:
1. Existing & Upcoming Third-Party Data Centers in Norway
1.1. Historical Market Scenario
1.2. 25+ Unique Data Center Properties
1.3. Data Center It Load Capacity
1.4. Data Center White Floor Area
1.5. Existing Vs Upcoming Data Center Capacity by Cities
1.6. Cities Covered
1.6.1. Oslo
1.6.2. Other Cities
1.7. List of Upcoming Data Center Projects
2. Investment Opportunities in Norway
2.1. Microeconomic and Macroeconomic Factors for Norway
2.2. Investment Opportunities in Norway
2.3. Investment by Area
2.4. Investment by Power Capacity
3. Data Center Colocation Market in Norway
3.1. Data Center Demand Across Industries in Norway
3.2. Colocation Services Market in Norway
3.3. Retail Vs Wholesale Data Center Colocation
3.4. Colocation Pricing (Quarter Rack, Half Rack, Full Rack) & Add-Ons
4. Market Dynamics
4.1. Market Drivers
4.2. Market Trends
4.3. Market Restraints
5. Market Segmentation
5.1. It Infrastructure: Market Size & Forecast
5.2. Electrical Infrastructure: Market Size & Forecast
5.3. Mechanical Infrastructure: Market Size & Forecast
5.4. Break-Up of Construction Cost
5.5. General Construction Services: Market Size & Forecast
6. Tier Standard Investment
6.1. Tier I & Ii
6.2. Tier Iii
6.3. Tier Iv
7. Key Market Participants
7.1. It Infrastructure Providers
7.2. Construction Contractors
7.3. Support Infrastructure Providers
7.4. Data Center Investors
7.5. New Entrants
8. Appendix
For more information about this report visit https://www.researchandmarkets.com/r/9kuzwj
Attachment
Norwegian Data Center Market

(GlobeNewsWire)