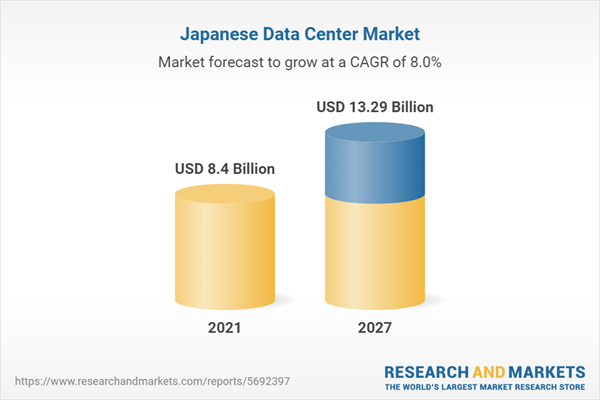 Dublin, Jan. 05, 2023 (GLOBE NEWSWIRE) — The "Japan Data Center Market – Investment Analysis & Growth Opportunities 2022-2027" report has been added to ResearchAndMarkets.com's offering.
This report analyses the Japan data center market share. It elaboratively analyses the existing and upcoming facilities and investments in IT, electrical, mechanical infrastructure, general construction, and tier standards. It discusses market sizing and investment estimation for different segments.
Japan is among the top data center market in the APAC region, after China and Australia, in terms of investment. The high internet and social media penetration across the country is driven by the deployment of 5G services, better and improved inland connectivity, availability of renewable energy and free cooling solutions, and others, making Japan an attractive market for investors.
The Japan data center market is primarily concentrated in the Tokyo and Osaka regions, that house over 75% of the existing capacity. The country has a presence of local and global data center operators such as Equinix, Colt Data Centre Services, Telehouse, NTT Communications, AT TOKYO, Fujitsu, ARTERIA Networks, and SCSK Corporation (netXDC), among others. The region is the most expensive country to build a data center facility. As per Turner & Townsend in Tokyo in 2021, the construction costs were around USD 12.50 per watt.
Acquisitions and joint ventures enable new players to enter the Japanese market, attract customers, and capture a more significant market share. Global businesses in the country, such as Toyota Motor Corporation, SoftBank, Japan Post, Sony, and Honda Motor Company, are driving higher data usage due to the increased use of the applications and platforms such as big data and artificial intelligence.
REPORT HIGHLIGHTS
The Japan data center market is one of the established markets in the APAC region and is witnessing several new investments from local and global operators.
Apart from colocation operators, the country is also witnessing several new investments from private equity and real estate firms such as Hulic, Gaw Capital, ESR, GLP (Global Logistic Properties), and others.
Japan has around 104 operational colocation data centers. Most colocation centers are being designed according to Tier III standards. For instance, Digital Edge's OSA1 data center in Osaka is certified as Tier III.
The country is also witnessing improvements in submarine and inland connectivity. For instance, Topaz, Apricot, JUNO, and Southeast Asia-Japan Cable 2 (SJC2) are some of the developing submarine cables that will connect Japan with the U.S., Canada, and other APAC countries.
Significant deployment and adoption of 5G services in Japan will fuel data traffic and increase demand for more data centers. For instance, Edge Centres has announced plans to build two edge data centers in the country.
The increasing trend of procuring renewable energy for power facilities in the country will likely continue during the forecast year, contributing to the country's goal of becoming carbon neutral by 2050.
The price of lithium-ion batteries has decreased over the years, which has observed high demand for lithium-ion UPS systems.
The share of diesel generators is expected to decline with the adoption of gas generators in the market as they are fuel efficient and environmentally friendly.
Monitored and metered/switched PDUs will experience strong adoption in the market owing to the growing awareness of end-to-end power monitoring in data centers during the forecast period.
The Japanese data center market is dominated by direct free cooling solutions that will increase the adoption of duct systems in the facilities.
Evaporative and water-based economizer solutions support the adoption of pipes and valves in N+N redundancy.
Greenfield projects will witness an increased investment from local and global data center providers as they aim to expand their presence.
The DCIM adoption is likely to grow in the future as man-hours are reduced to handle critical data center tasks.
Infrastructure level monitoring is likely to increase than end-to-end facility management.
WHY SHOULD YOU BUY THIS RESEARCH?
Market size available in the investment, area, power capacity, and the Japan colocation market revenue.
An assessment of the investment in Japan by colocation and enterprise operators.
Investments in the area (square feet) and power capacity (MW) across locations in the country.
A detailed study of the existing market landscape, an in-depth industry analysis, and insightful predictions about the Japan data center market size during the forecast period.
Snapshot of existing and upcoming third-party data center facilities in Japan
Facilities Covered (Existing): 104
Facilities Identified (Upcoming): 18
Coverage: 3+ Cities
Existing vs. Upcoming (Area)
Existing vs. Upcoming (IT Load Capacity)
Data center colocation market in Japan
Colocation Market Revenue & Forecast (2021-2027)
Wholesale vs. Retail Revenue & Forecast (2021-2027)
Retail Colocation Pricing
Wholesale Colocation Pricing
The Japan market landscape investments are classified into IT, power, cooling, and general construction services with sizing and forecast.
A comprehensive analysis of the latest trends, growth rate, potential opportunities, growth restraints, and prospects for the industry.
Business overview and product offerings of prominent IT infrastructure providers, construction contractors, support infrastructure providers, and investors operating in the industry.
A transparent research methodology and the analysis of the demand and supply aspects of the market.
VENDOR LANDSCAPE
Some key colocation investors in the Japan data center market include Equinix, MC Digital Realty, AT TOKYO, Colt Data Centre Services, and SCSK Corporation (netXDC).
The Japan data center market has also witnessed several new entrants expanding their presence. These include AirTrunk, ST Telemedia Global Data Centres, Princeton Digital Group, STACK Infrastructure, Digital Edge, and others.
The hyperscale operator Amazon Web Services has opened its new cloud region in Osaka with three availability zones.
The country is also witnessing an increase in the adoption of cloud services. Amazon Web Services, Microsoft, Google, Oracle, Alibaba Cloud, and Tencent Cloud have a strong presence in the country. In June 2022, Tencent Cloud announced its plan to launch its third cloud and data center region in the country.
Telecom operators such as NTT DOCOMO, KDDI, SoftBank, and Rakuten are the major telecom operators that have either deployed 5G technology in some cities on a trial basis or are in the process of launching commercial 5G services across the country.
The operators are increasing their market share and presence across the country by either acquiring data center operators or investing in the company. For instance, Vantage Data Centers marked its presence in the Japanese data center market with the acquisition of Agile Data Centers (AgileDC).
Major Vendors
IT Infrastructure Providers
Arista Networks
Atos
Broadcom
Cisco Systems
Dell Technologies
Fujitsu
Hewlett Packard Enterprise
Hitachi Vantara
Huawei Technologies
IBM
Inspur
Lenovo
NEC
NetApp
Oracle
Data Center Construction Contractors & Sub-Contractors
Arup
AECOM
Daiwa House Industry
Fuji Furukawa Engineering & Construction
Hibiya Engineering
ISG
Kajima Corporation
Keihanshin Building
MARCAI DESIGN
Meiho Facility Works
Nikken Sekkei
NTT FACILITIES
Obayashi Corporation
SHINRYO
Support Infrastructure Providers
3M
ABB
Alfa Laval
Caterpillar
Cummins
Delta Electronics
Eaton
Fuji Electric
HITEC Power Protection
Johnson Controls
Kawasaki Heavy Industries
KOHLER-SDMO
Legrand
Mitsubishi Electric
Rittal
Rolls-Royce
Schneider Electric
Siemens
STULZ
Vertiv
Data Center Investors
AT TOKYO
ARTERIA Networks
Colt Data Centre Services
Equinix
Fujitsu
IDC Frontier
MC Digital Realty
NTT Communications
SCSK Corporation (netXDC)
Telehouse
Tencent Cloud
TIS INTEC Group
New Entrants
AirTrunk
Digital Edge
Edge Centres
Princeton Digital Group
STACK Infrastructure
ST Telemedia Global Data Centres
Vantage Data Centers
REPORT COVERAGE:
Colocation Pricing
Quarter Rack
Half Rack
Full Rack
Add-Ons
IT Infrastructure
Servers
Storage Systems
Network Infrastructure
Electrical Infrastructure
UPS Systems
Generators
Transfer Switches & Switchgears
PDUs
Other Electrical Infrastructure
Mechanical Infrastructure
Cooling Systems
Rack Cabinets
Other Mechanical Infrastructure
Cooling Systems
CRAC & CRAH Units
Chiller Units
Cooling Towers, Condensers & Dry Coolers
Economizers & Evaporative Coolers
Other Cooling Units
General Construction
Core & Shell Development
Installation & commissioning Services
Engineering & Building Design
Fire Detection & Suppression Systems
Physical Security
Data Center Infrastructure Management (DCIM)
Tier Standard
Tier I & Tier II
Tier III
Tier IV
Geography
For more information about this report visit https://www.researchandmarkets.com/r/vweooz
Attachment
Japanese Data Center Market

(GlobeNewsWire)